'Ghost of Tsushima' - E3 2018 Gameplay Debut
Play Sound
Ghost of Tsushima is a third-person open-world action-stealth video game developed by Sucker Punch Productions exclusively for the PlayStation 4. It takes place in 1274 on the island of Tsushima in Japan. The player controls the hero, Jin Sakai, as he fights back against a Mongol invasion. It was released on July 17, 2020.
A New Game+ mode was released alongside a free multiplayer expansion, Ghost of Tsushima: Legends, on October 16, 2020, in update 1.1. Free upgrades, including faster load times and framerates up to 60 frames per second (compared to 30 on PS4 and PS4 Pro), were made available to PlayStation 5 owners.[2]
A re-release of the game along with an expansion, Ghost of Tsushima: Iki Island, was released on August 20, 2021, under the name Ghost of Tsushima Director's Cut, on PlayStation 4 and PlayStation 5, with the PlayStation 5 version having additional features such as haptic triggers, Japanese lip-sync, and faster loading times.[3]
A film adaptation is being helmed by Chad Stahelski of John Wick fame; it is currently in development.[4]
Plot
[
]
This section requires expansion.
Ghost of Tsushima is a story-driven, action-adventure open world game with combat and stealth elements. An anthology of smaller side stories surrounds the main plot. It is loosely based on historical events and should not be considered an accurate re-telling of history - it is purely for entertainment purposes only.[5]
The year is 1274 CE on the island of Tsushima. Samurai warriors are the legendary defenders of Japan until the fearsome Mongol Empire invades, wreaking havoc and conquering Tsushima, defeating nearly all samurai stationed on Tsushima Island. As one of the last surviving samurai, Jin Sakai rises from the ashes to fight back with help from his allies, but the honorable tactics and code of the samurai won't lead to a possible victory over the Mongols. Jin must move beyond samurai traditions to forge a new way of fighting – the way of the Ghost – as he wages an unconventional war for the freedom of Japan.[6]
Features
[
]
A single player open world experience where players are encouraged to progress from location to location without guidance.
A progression system that includes learning various combat techniques, such as samurai tactics, stealth tactics and stances to help Jin fight a variety of different enemies.
The main story line branches off into multiple side quests that players can elect to pursue for additional skills, armor, weapons and experiences.
Experience dynamic weather and time of day.
Multiple difficulty settings, able to be adjusted at almost any time throughout the game.
Photo/Video mode with options for particle effects, wind speed and direction, and background soundtrack. (Press Right on the D-Pad).[7]
"Samurai Cinema": Japanese voice track option with subtitles (can be changed throughout the game)[7]
"Kurosawa Mode": Black-and-white windy film grain with Japanese voice track and reworked audio (can be changed throughout the game).[7]
Legends Multiplayer mode with unique story and survival mode and item progression system.
Languages
[
]
Ghost of Tsushima has full voice acting in either Japanese or English with multiple language options for subtitles. The English voice acting was recorded by Sucker Punch while the Japanese voice acting was overseen by SIE Japan Studio. Voice and subtitle languages can be changed throughout the game as players choose.[8]
English - Voice Acting
Japanese - Voice Acting with English subtitles
Development
[
]
Ghost of Tsushima was initially revealed at Paris Games Week on October 30, 2017 by Sucker Punch Productions.[9] Its gameplay was first revealed at E3 2018.[10] Ghost of Tsushima was originally set to release on June 26, 2020,[11] however this was pushed to July 17, 2020 due to the COVID-19 pandemic.[1] The game went gold on June 22, 2020.[12]
Inspiration
[
]
Game director Nate Fox of Sucker Punch said:
The game is a love letter to the samurai genre, [...] While working on the Sly Cooper series, I was writing the dialogue for these anthropomorphized animals and, kind of as a point of inspiration, I was reading this comic called Usagi Yojimbo. [...] It's this great comic where the samurai main character wanders the landscape and he's this very quiet, soft-spoken person who uses his sword in a snap to solve problems in any town he walks into. And I remember reading it and at the time thinking, man, this would be a great video game.[13]
After finishing Infamous: First Light, Nate Fox says they were already thinking about their next project:
When we started talking about making an open-world samurai game, I remembered reading those comics - and of course watching classic samurai movies - and thinking this is really a good marriage with the freedom of being in an open world. And when you think about an open world you'd want to explore, feudal Japan is like number one.[13]
He continues:
I would say the number one inspiration for the title was Red Dead Redemption -- not Red Dead 2, but Red Dead Redemption -- because they did such a fantastic job bringing the fantasy of being an outlaw cowboy to life.[14]
Another inspiration was:
Yojimbo by Akira Kurosawa, where it's this perfect, almost like a western, where a samurai walks into town and uses the edge of his sword to solve a problem, guile. And that seemed like the kind of thing you could replicate inside a game world, very meaningful."[13]
Authenticity
[
]
Nate Fox said:
We wanted to make the world feel authentic. And, because we're an American developer, we knew we wouldn't succeed at that just by ourselves, so we reached out to experts in different fields to help guide us in how to do things correctly from architectural standards to how people would move in the time or how clothes were created at the time. [...] Certainly we want to do the best job we can knowing that we are a bunch of Americans, but it's really handy being a member of Sony, where we have other studios we can ask for help from or guidance, [...] And working with these other teams, people, and even Japan Studios who guided us on our first research trip to Tsushima Island and helped with field recordings of audio. It's come together to have that feeling that will transport you to feudal Japan.[13]
Regarding the combat Fox explained:
Samurai movies feature these really intense, deadly battles. And for us, the three words that guide our combat are mud, blood, and steel. We want to make it grounded. We want to make it visceral. And it is a challenging space. As soon as we decided that we wanted to honor the lethality of swords – one swipe, two swipes, you're dead. And that's you killing others, and that's others killing you. The game came alive as a samurai game. The challenge was there. The threat of death was there.[13]
Release
[
]
Reception
[
]
| Aggregator | Score |
| --- | --- |
| Metacritic | 84/100 [15] |
| Publication | Score |
| Destructoid | 9.5/10 [16] |
| Famitsu | 40/40 [17] |
| Game Informer | 9.5/10 [18] |
| GamesRadar | 4.5/5 [19] |
| GameSpot | 7/10 [20] |
| IGN | 9/10 [21] |
| PlayStation Universe | 9/10 [22] |
| Push Square | 9/10 [23] |
The review embargo for Ghost of Tsushima was lifted on July 14, 2020, 7 AM PDT, approximately three days before the game's release.[24] Ghost of Tsushima received very positive reviews, with praise directed towards its combat and art design. IGN's Mitchell Saltzman said that "Ghost of Tsushima is an excellent action game and its open world is one of the most gorgeous yet."[21] Game Informer's Matt Miller praised the gameplay, saying that "Ghost of Tsushima is the open-world action formula at its most mature and rewarding [...] deep, rewarding, and hard to put down.".[18] John-Paul Jones of PlayStation Universe said that "Ghost of Tsushima undoubtedly remains not only one of the best open world romps money can buy and a stunning PlayStation 4 exclusive, but also Sucker Punch Productions finest effort to date."[22] Additionally, Ghost of Tsushima was the third western game to ever receive a Famitsu perfect score of 40/40.[25]
Criticisms were directed at the game's open-world nature, with Polygon's Carolyn Petit saying that "The core game underneath that alluring exterior is a pastiche of open-world game design standards from five years ago; it lacks a real personality of its own."[26] Eurogamer's Chris Tapsell said, "Limited by a rote and rigid world, Sucker Punch's samurai homage pairs okay action with enjoyably committed, if awkwardly fawning melodrama."[27] Digital Foundry's John Linneman praised Ghost of Tsushima as "Sucker Punch's best release yet" but said that "compared to the standards set by Sony's remarkable run of first-party hits, it doesn't quite feel like the finished article."[28]
Sales
[
]
Worldwide, the game sold more than 2.4 million units in its first 3 days of sales, making it Sony's fastest selling original IP debut.[29] Also, after only three weeks of sales, Ghost of Tsushima achieved the highest lifetime sales for a PS4 first-party game in Japan, surpassing Marvel's Spider-Man.[30]
In November 2020, New York Times reported that Ghost of Tsushima had sold over 5 million copies since its release, and Hermen Hulst, head of PlayStation Worldwide Studios, confirmed that it was also the fastest-selling first-party original PS4 game.[31][32] In March 2021, game director Nate Fox announced that Ghost of Tsushima had sold over 6.5 million copies.[4] In January 2022, Sucker Punch Productions confirmed that Ghost of Tsushima had sold more than 8 million copies.[33]
Technical performance
[
]
This section requires expansion.
Ghost of Tsushima runs at 1080p resolution with a 30 frames-per-second cap on the base, non-Pro, PlayStation 4. On PlayStation 4 Pro, there are two options for the user: Higher Resolution and Better Framerate. While both modes still have a 30 frames-per-second cap, Higher Resolution renders the game at 1800p and then checkerboards it to a 2160p display, or supersamples it to a 1080p display; Better Framerate renders the game at 1080p without any checkerboard rendering.[34]
On PlayStation 5, Ghost of Tsushima runs in backwards compatibility mode with a 60 frames-per-second cap and faster load times.[35]
Awards
[
]
Ghost of Tsushima was nominated for and won many awards, including five nominations in the Golden Joystick 2020 awards, with Sucker Punch receiving a Studio of the Year nomination.
Edition Variants
[
]
Ghost of Tsushima had pre-order bonuses associated with the various digital and launch editions of the game:[6]
Standard Edition
[
]
The standard edition was the digital version of the game and retailed for US$59.99. It included the following pre-order bonuses:
Digital mini soundtrack
Jin Sakai Dynamic Theme[36]
Jin PlayStation Avatar
Standard Launch Edition
[
]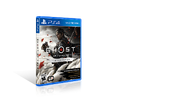 The launch edition was the physical version of the game and retailed at US$59.99. The cover of the physical game disc is reversible and features the Ghost mask, and includes the pre-order bonuses that the standard digital edition has.[37]
Digital Deluxe Edition
[
]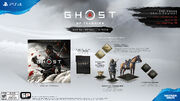 The Digital Deluxe Edition retailed for US$69.99 / $89.99 CAD and included the following:
Digital version of Ghost of Tsushima
Digital mini art book by Dark Horse Comics
Digital mini soundtrack
Director's commentary
Jin Sakai Dynamic Theme[36]
Samurai PS4 dynamic theme[38]
Jin PlayStation Avatar
Hero of Tsushima Vanity Gear: Armor (includes helmet, white headband, mask, and body armor), Sword Kit (skin), Horse and Saddle skin
In-game items: 1 Technique Point and Charm of Hachiman's Favor (available after players gains control of Jin)
Special Edition
[
]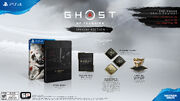 The Special Edition retailed for US$69.99 / $89.99 CAD MSRP and included the following:
Ghost of Tsushima steelbook, including the game disc
Digital items include:
Digital mini art book by Dark Horse Comics
Digital mini soundtrack
Director's commentary
Jin Sakai Dynamic Theme[36]
Jin PlayStation Avatar
Hero of Tsushima skin set, including golden mask, and sword kit
In-game items: 1 Technique Point, Charm of Hachiman's favor (obtainable via story progression)
Collector's Edition
[
]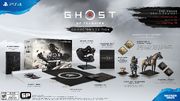 The Collector's Edition retailed for US$169.99 / $219.99 CAD MSRP and included the following:
Ghost of Tsushima steelbook, including the game disc
Cloth map of island of Tsushima
Sashimono war banner
Furoshiki wrapping cloth
Sakai mask and stand made of polyresin
48-page mini art book by Dark Horse Comics
Digital items include:
Digital mini soundtrack
Director's commentary
Jin Sakai Dynamic Theme[36]
Samurai PS4 dynamic theme[38]
Jin PlayStation Avatar
Hero of Tsushima skin set, including golden mask, body armor, sword kit, horse and saddle (obtainable via story progression)
In-game items: 1 Technique Point, Charm of Hachiman's favor (obtainable via story progression)
Digital Deluxe Upgrade
[
]
A digital deluxe upgrade was released shortly after launch, primarily for those who already owned the standard edition of Ghost of Tsushima. It retails for $10.99 USD on the PlayStation Store and includes the following[39]:
1 Technique Point
Charm of Hachiman's Favor
Hero of Tsushima Skin Set: Golden Mask, Body Armor, Sword Kit, Horse, Saddle
Digital Mini Art Book by Dark Horse
Director's commentary
Ghost of Tsushima Samurai Theme
Gallery
[
]
Images
[
]
Concept art
[
]
Videos
[
]
References and notes
[
]
References
[
]
Notes
[
]
↑

PlayStation 5 via backwards compatibility