Welcome to the Ghost of Tsushima wiki!
The best source of information about
Ghost of Tsushima
, the PlayStation 4 exclusive by
Sucker Punch Productions
, written for fans, by fans.
The year is 1274. Samurai warriors are the legendary defenders of Japan—until the fearsome Mongol Empire invades the island of Tsushima, wreaking havoc and conquering the local population. As one of the last surviving samurai, you rise from the ashes to fight back. But honorable tactics won't lead you to victory. You must move beyond your samurai traditions to forge a new way of fighting—the way of the Ghost—as you wage an unconventional war for the freedom of Japan. It was released on July 17, 2020.
This wiki contains
spoilers
. Please read at your own risk.
Featured Videos
Countdown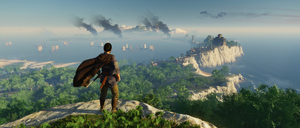 Ghost of Tsushima Director's Cut and Iki Island are released!

ORDER NOW
Nightmare Week 3
February 18, 2022 - February 25, 2022
News
2/8/2022: Ghost of Tsushima receives patch 2.15, adding in the Forbidden Shrine and a Platinum level in Survival stages.
---
7/1/2021: Ghost of Tsushima Director's Cut, consisting of Ghost of Tsushima and the brand new Iki Island expansion, is announced for release on August 20, 2021 for PS4 and PS5.
---
3/25/2021: A Ghost of Tsushima film is announced.
---
Gallery
Discord
Join our Discord server to discuss Ghost of Tsushima with fellow fans!
Social Media
Wiki affiliates