Tsushima has long been vital to trade and diplomacy between Japan and the kingdoms of Goryeo and China. Lighthouses play a crucial part in this.

Reignite Lighthouses to give hope to the people and grow your Legend.
― Collections Description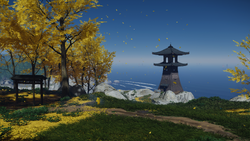 Lighthouses are special locations scattered across the island of Tsushima. The Mongols have occupied strategic lighthouses around the coast. Reigniting the Lighthouses increases Jin Sakai's Legend status.
There are eight Lighthouses on the Island of Tsushima; with an additional two on Iki.
Locations
[
]
Tsushima
[
]
| Name | Area | Act | Map |
| --- | --- | --- | --- |
| Ariake Lighthouse | Near Hidden Springs Forest | 1 | |
| Tsutsu Lighthouse | Fort Ohira | 1 | |
| Komoda Lighthouse | Saicho's Point | 1 | |
| Akashima Lighthouse | Old Togo Rice fields | 2 | |
| Kubara Lighthouse | Near Fort Koyasan | 2 | |
| Sago Lighthouse | Sibling Bay | 3 | |
| Kin Lighthouse | Near Iwai Village | 3 | |
| Jogaku Lighthouse | Near Port Izumi | 3 | |
Iki
[
]
| Name | Map |
| --- | --- |
| Yahata Lighthouse | |
| Thieves Rest Lighthouse | |