Mongolian culture developed on the steppes of central and northern Asia, but as their empire expanded, it absorbed the ideas and products of many nations. A Warrior who hopes to defeat the invaders would be wise to study their culture.

A variety of Mongol Artifacts can be found in their forts, encampments, and dwellings across the island.
― In-game description.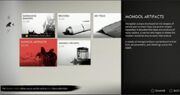 Mongol Artifacts are collectible items that are found throughout the island of Tsushima. They provide useful information on the Mongol Empire, including their way of life and approach to war. There are fifty (50) Mongol Artifacts in the game and collecting twenty (20) of them counts towards the "Know Your Enemy" trophy.
Locations
[
]
Izuhara
[
]
Toyotama
[
]
Kamiagata
[
]
Dishware & Pottery –

High Point Guard Post

Encampment
Fire Lance –

Silk Farm

(S.W. of Cedar Temple)
Gunpowder –

General Bartu's Camp

Hide –

Icy Forest Crossroads

Encampment
Hwacha – Bitter Hills Garrison Encampment (broken cart just outside)
Mahakala Mask –

White Falls Village

(near Jito's Foothills)
Milk Pot – E. of

Izumi Village

(at a campfire just to the right of Jogaku Lighthouse )
Mongol Helmet –

Frozen Forest Crossroads

Encampment
Mongol Spear –

Frozen Overlook

Encampment
Mongolian Coins –

Mountain Pass

Encampment
Ongon – General Dogshin's Camp
Ovoo –

Twilight's Edge Overlook

Encampment
Prisoner Coffin – Jogaku Temple Lake
Qubchur –

Derelict Mine

Encampment
Siege Weapons – Fort Jogaku
Soldier Supplies – Shipyard W. of Kamiagata Falls
Gallery
[
]