These pillars were erected over the island of Tsushima's first jito. They honor the samurai who gave their lives to bring peace and order to Tsushima.

Collect Sword Kits from these pillars to customize the appearance of your blades.
― In-game description.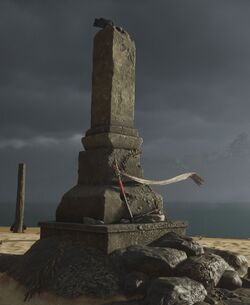 The Pillar of Honor is a type of shrine that was built by the first jito of Tsushima to honor the deceased samurai who brought peace and order to the island.
There are 23 collectibles with Sword Kits that can be used to customize the appearance of your katana and tanto. They are for cosmetic purposes only and do not provide any additional benefits, skills or techniques.
When Jin discovers a Pillar of Honour, he may encounter a samurai lying deceased before the Pillar, which may also be surrounded by dead mongols. If Jin bows in front of the deceased samurai, he will express respect at the samurai's sacrifice or wish him well in the next life.
By collecting the sword kits at Pillars of Honor on Iki Island, the player will unlock them for use in Ghost of Tsushima: Legends (save for the Hidden Heart, which requires a perfect completion of Platinum Survival with all difficulty modifiers enabled). The sword kits found on Tsushima will need to be unlocked via unique challenges in the Legends Mode.
Locations

[

]
Gallery
[
]