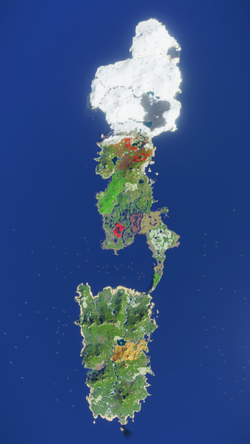 Tsushima (対馬) is where Ghost of Tsushima takes place. It is a Japanese island situated off the west coast of Kyushu in the Japanese archipelago. Tsushima is divided into three regions: Izuhara, Toyotama and Kamiagata. Each region is then divided into several prefectures.
History
[
]
The island was an important trading center between Japan and the Asian continent. Regular activities were halted during the medieval invasions of the Mongol Empire.
The game takes place in 1274, at the start of the first Mongol Invasion of Japan. Lord Shimura was the jito (lord) of Tsushima. Only 80 samurai stood against thousands of invaders. In Ghost of Tsushima, the fictional Mongol general Khotun Khan leads the invasion of Tsushima. The Mongols wreak havoc and conquer the local population. Many civilians were killed and villages burned to the ground. Jin Sakai is one of the few survivors.
Geography
[
]
Tsushima
[
]
The estimated in-game world size is 18.75 km2 (7.5 x 2.5) for the North Island and 9.87 km2 (4.6 x 2.1) for the South Island. The total size is 28.62 km2 or 11.02 mi2.[1]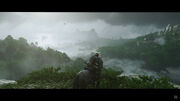 In Ghost of Tsushima, the island is downsized by a scale of 1:25 and the geography is much more varied than its real life counterpart, with significantly more drastic terrain and differences in climate. The landscape is primarily covered by coniferous and deciduous forests along with grass lands. Some villages have semi-aquatic paddy fields to grow crops such as rice and taro.
Open world
[
]
Tsushima is a large open world. The player can roam through vast countrysides, explore billowing fields, tranquil shrines, ancient forests, villages, stark mountain-scapes, bamboo forests to the urban center of ornate castles.[2] Each area in the game has a different theme that reflects to different stories and narrative. For example, the "Forest of No Return" is an area with betrayal stories and a dark tone.[2]
Nate Fox of Sucker Punch said "Tsushima Island covers the biomes you can find on mainland Japan, from snowy mountains to bamboo forests, to waterfalls and rolling grasslands, it's all there."[3] The landscape changes based on Jin's actions.[4]
"The world is a dynamic simulation. We don't know where models are all the time because they make choices and they roam about, as do wild animals. And the world has been authored so that if you see a funky looking rock and you're curious about it, we're going to reward you for that curiosity. So yes, the world's been created with a sense of intentionality, but at the same time, it's dynamic in a way that it is unpredictable."[5]
Players have a lot of navigational options such as horse-riding, parkour and Jin swinging with the grappling hook. If you see something, and you expect to be able to climb on it, then you can probably climb it.[2]
There are a lot of stories in the game. So you may not find them all. The game has no waypoints. There are many side characters in the game, most of which have sidequests. Jin Sakai will learn new things from NPC quests.[2]
Weather
[
]
There is a full day and night cycle and dynamic weather such as snow, rain, storms and lightning. The clouds are dynamically simulated and not painted, with procedural generated skies.[2] Some weather is tied to specific regions to give more flavor and personality to them, while others are tied to story moments.[6] "Movement" is the environment theme. Lots of things move in the game such as blowing trees, windy fields and falling leaves.[2]
Jin's appearance is also affected by the weather. If Jin rolls around in a lot of the mud, he will be completely covered in it, and if it starts raining, Jin's muddy or bloody-stained clothes would be washed away.[2] Jin may change what he is wearing to match the weather, but this has no mechanical or narrative value.
Trivia
[
]
Tsushima is pronounced as tsu-shi-ma, similar to how it's written. In Japanese it is written with the kanji 対馬 (Hiragana: つしま).
See also
[
]
Videos
[
]
Images
[
]
Sucker Punch trip to Tsushima
[
]
Screenshots
[
]
References
[
]